REQUEST INFORMATION
Ask for information now. You we'll be contacted by an our appointe near to you.
Liquid straight telescopic with non-woven sheet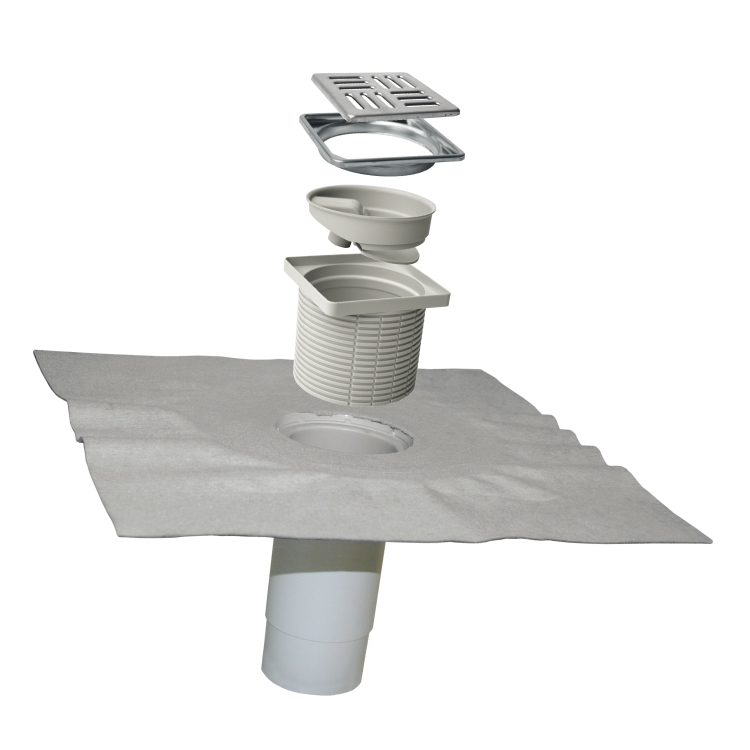 Available in five diameters: 50-75-82-90-100 mm. The Liquid vertical exit drain with non-woven sheet is provided with high performance non-woven material, that allows compatibility especially with solvent base liquid materials. The PP flange is provided with knurled surface on both sides, to improve the adherence of liquid waterproofing materials. Small steps on the upper part of the spigot allow dripping of water coming from any upper infiltration.
FEATURES
Stainless Steel Grating and Frame
Anti-intrusion system diameter 50/75/82/90/100 mm
Telescopic Extension H90 - H50 - H18
Water drainage grooves
"Non-stop water" internal grooves
Upper and lower knurled flange to improve the anchoring of the liquid waterproofing layers
Sheet made from high-performance non-woven fabric
Vertical drain cover diameter 50/75/82/90/100 mm
Side drain cover diameter 50/75/90 mm
Sloping bottom to prevent water stagnation
дополнительная информация: Liquid straight telescopic with non-woven sheet